What Sets Centangle Interactive Apart in the Digital Media Industry?
In 2019, worldwide digital ad spending is expected to rise by 17.6% to $333.25 billion; for the first time, digital will account for roughly half of the global ad market.
This rapid shift toward digital has resulted in the proliferation of countless agencies—and we understand how overwhelming finding a reliable and qualified one can be.
But look no further!
Based in Pakistan, our team of capable professionals at Centangle Interactive is always on top of the most current trends in the marketing world.
We're fortunate to work with numerous companies, brands, and organizations that have trusted us to help them with their digital needs, like custom software, mobile development, web development, digital media, and visual and print media solutions.
One of our clients, Bahria University's Business Incubation Center (BIC), left a review for us on Clutch.co, a verified reviews platform.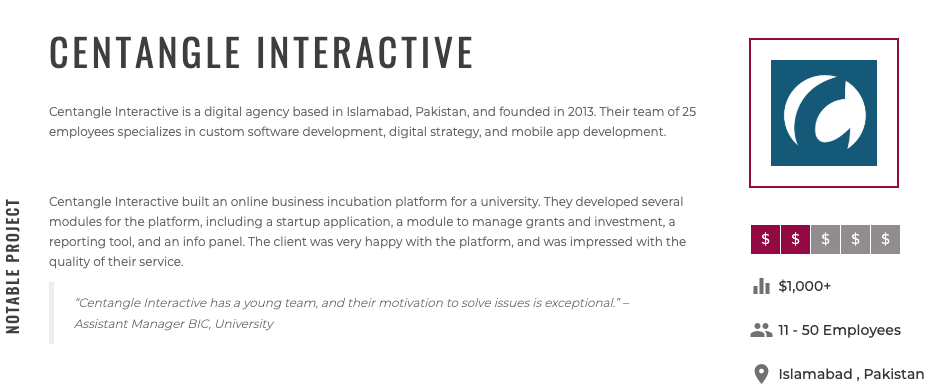 We're pleased that Clutch.co lists us as a top Pakistan custom software development company. Clutch.co's sister sites also recognize our capabilities: The Manifest, a company list blog, deem us a top web development company in Pakistan, while Visual Objects, which showcases agencies' portfolio work, names us a top software development company.
Most recently, we have developed and implemented a virtual business incubation platform for the Bahria University's Business Incubation Center, which helped increase the number of student applications that they received and streamlined their incubation process.
If you're interested in partnering with us, please don't hesitate to contact us! We're open to collaborating with anyone, from individuals to established companies.